For the past few years ALPHA60 have curated garments for the Museum Of Old and New Art [MONA]. Showcasing our exciting uniforms for the new James Turrell pavilion and Faro restaurant at MONA, Hobart Tasmania.

Georgie Cleary has held more than one celebration at the Museum of Old and New Art. She honeymooned there. She spent her birthday there. But most recently, it's the museum itself that's given her cause for revelry.

As one half of Melbourne label Alpha 60, the designer has turned her hand to creating uniforms for staff at MONA's restaurants and shop. "It's such an honour," she says. "A lot of testing went into the uniforms," Georgie's business partner and brother, Alex Cleary, says.

"There's a lot more in designing a uniform than in designing a dress for an evening. It has to be utilitarian… If you walk into a dress shop, you choose what you want to wear. With a uniform it's different. They have to be… practical enough for you to carry wine and art. For a restaurant, for instance, if you give a uniform big floaty sleeves, they'll knock over all the wine glasses. We had to make them fit a lot of different people, and make those people comfortable."

"We did an apron dress that can be worn in several different ways and fits everyone," Georgie says. "We used classic Alpha styles that we have tweaked over the years to perfect." Designing something that's not worn by choice comes with particular challenges for a venue as imposing as MONA, with its internal cliff faces and velvet-dark caverns.

These are garments that must withstand acute gazes, from people accustomed to contemplating objects and their meaning. It's fitting that MONA selected a sibling duo for the task, since the uniforms have to complement the gallery attendants' garb, which was created by Lindy-Lou, sister of MONA founder David Walsh. "Those uniforms have stood the test of fashion time," says MONA's hospitality operations manager, Maria Lurighi.

"When we started to discuss what we were looking for in a new uniform, we wanted each unit to feel individual. We wanted the staff to feel like they were wearing something unique." The resulting garments are dark and draped. They cocoon the wearer's body, rather than cleaving to it, offering a cool detachment that is both literal and aesthetic.

"They make us feel very graceful in a high-pressured busy environment. Guests often presume that it's a personal garment," says MONA staff member Isabelle Bishop.

"Uniforms aren't traditionally so arty." The new uniforms are a perfect case study in Alpha 60's decade-long appeal. Over the lifetime of their label, the Clearys have spent more time in art galleries than they have on traditional runways.
---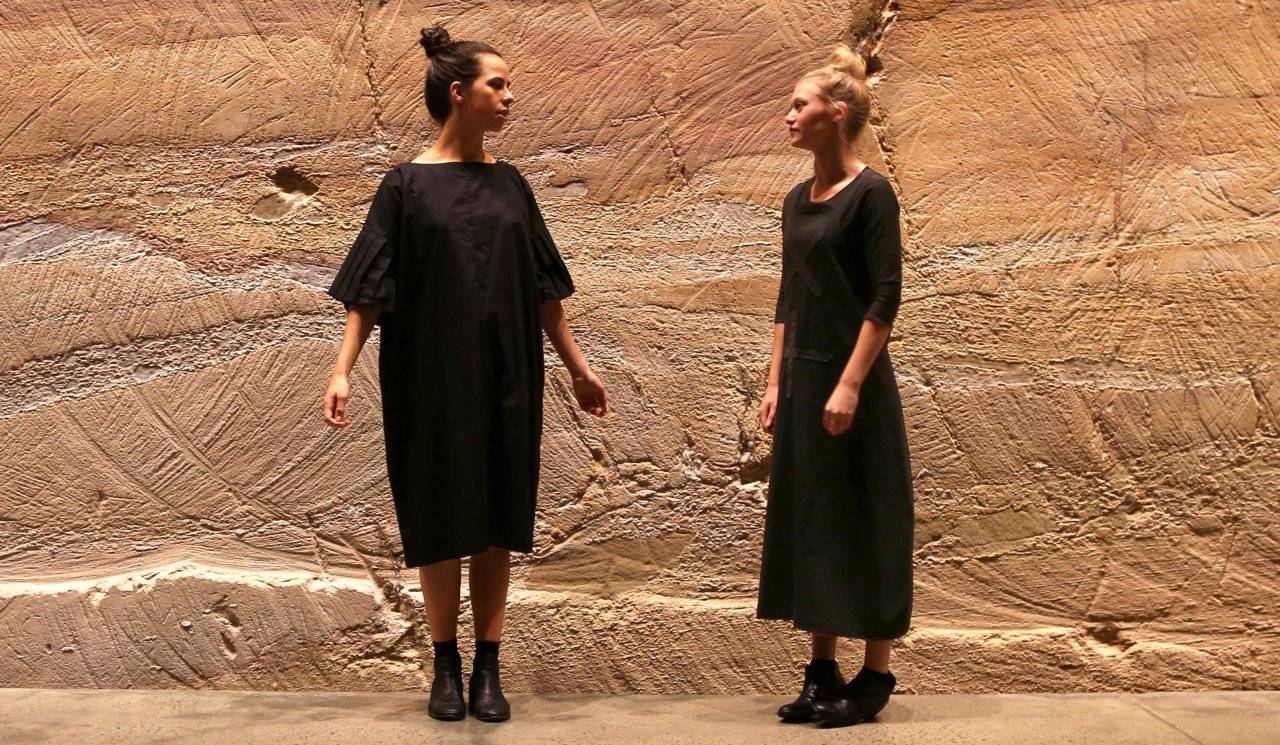 ---