ALPHA60 X
PATRICIA PICCININI
Vivid hues and equivocal imagery define our most recent collaboration with renowned artist Patricia Piccinini.

Ultra-lively yet sophisticated chic this capsule collection includes four dresses. A classic Alpha60 silhouette, each dress is cut from custom print silk twill and drapes elegantly over the body. You will also find a long sleeve crew neck tee shirt and baseball cap as part of Rising's official festival merchandise. Lots of new, lots of fun — explore today.
---
ALPHA60 X PATRICIA PICCININI
— HUGS
---
→ Editions of 100
→ 100% pure cotton
→ 210cm x 140cm


---
---
→ Editions of 100
→ 100% pure cotton
→ 210cm x 140cm


---
---
→ Editions of 100
→ 100% pure cotton
→ 210cm x 140cm


---
---
In a creative first, ALPHA60 teams up with renowned artist Patricia Piccinini and Heide Museum of Modern Art to present Hugs.
Together, ALPHA60 and Patricia Piccinini explore the nurturing nature of hugs in a series of whimsical, inspiring and emotive textile works. Hugs celebrates the hyper-realistic and deeply intimate aspect of Piccinini's work, drawing out conversations around nurture and nature—two themes that often live at the heart of Piccinini's complex and captivating artwork.
Patricia Piccinini is best known for her mutant life-like creatures rendered in silicone and hair. She has always been a crusader for finding joy in those things we know to be imperfect, and for the values of compromise and community. In 2015, Patricia Piccinini's ComCiência in Rio De Janeiro was the most visited contemporary art exhibition in the world.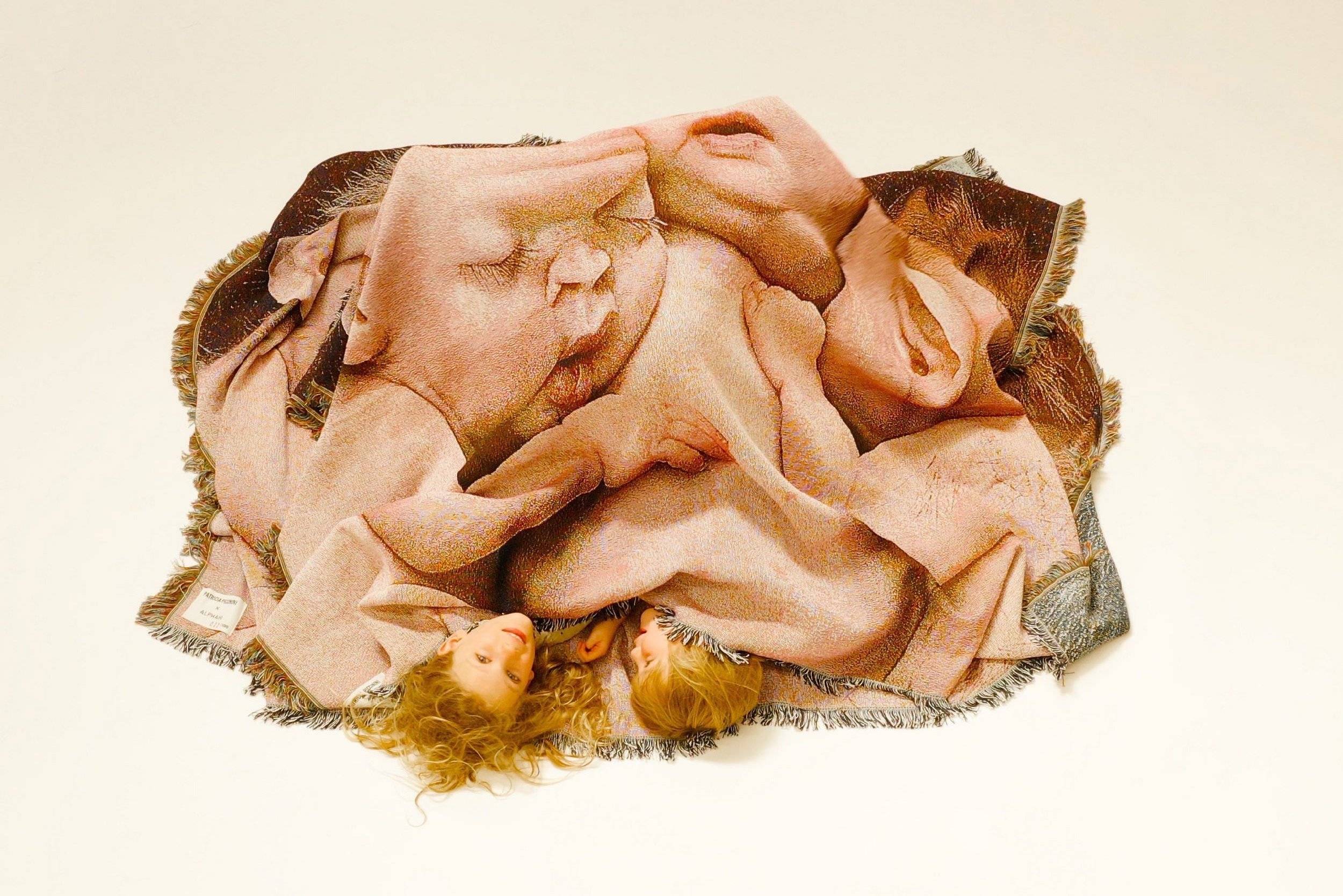 ---
→ EXHIBITION AT HEIDE MOMA


The ALPHA60 X Patricia Piccinini kiosk was held at Heide Museum of Modern Art from Saturday 27th February and came to a close on Sunday 14th March.

The limited edition textiles were installed within Heide Modern—amongst four of Patricia Piccinini's renowned works, and the original bespoke furniture designed by David McGlashan of McGlashan Everist.

This was the first time the furniture has been displayed since Sunday and John Reed inhabited Heide Modern—adding to this incredible exhibition.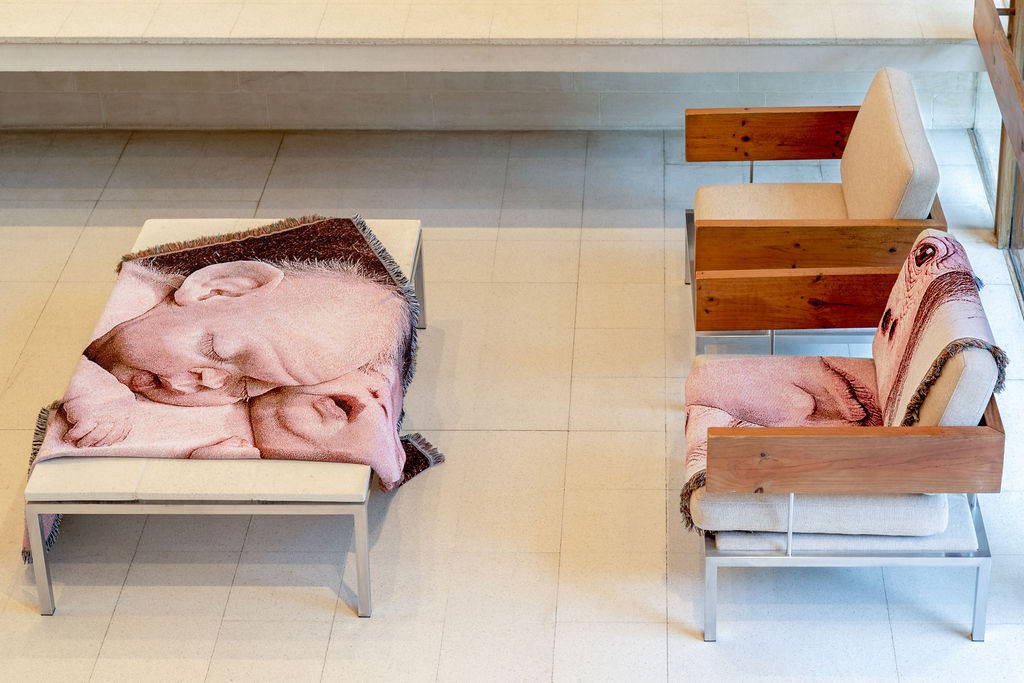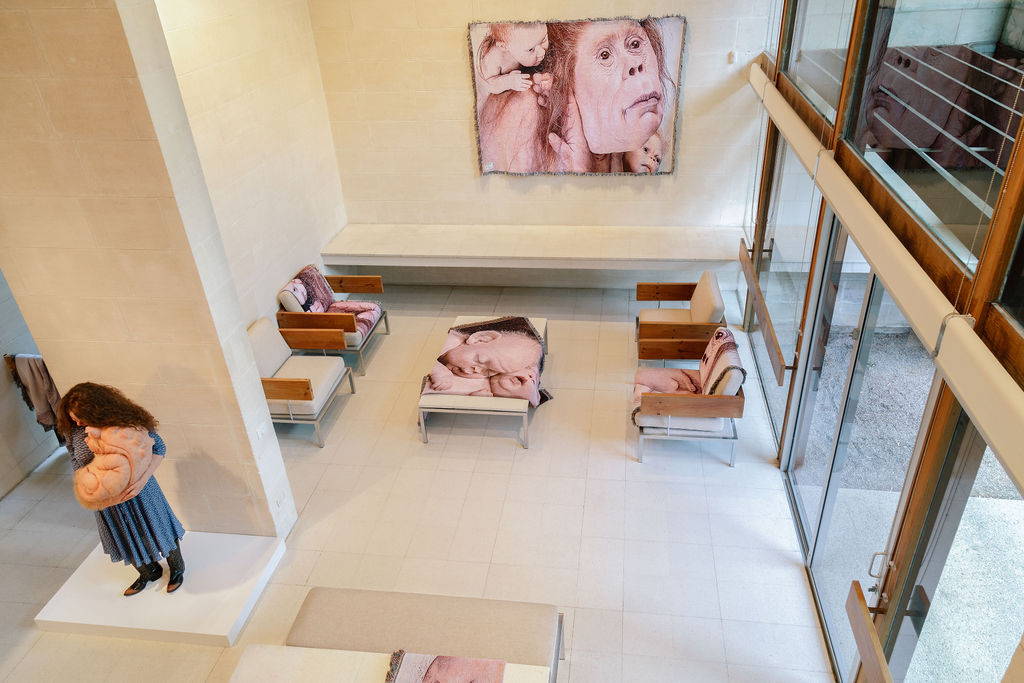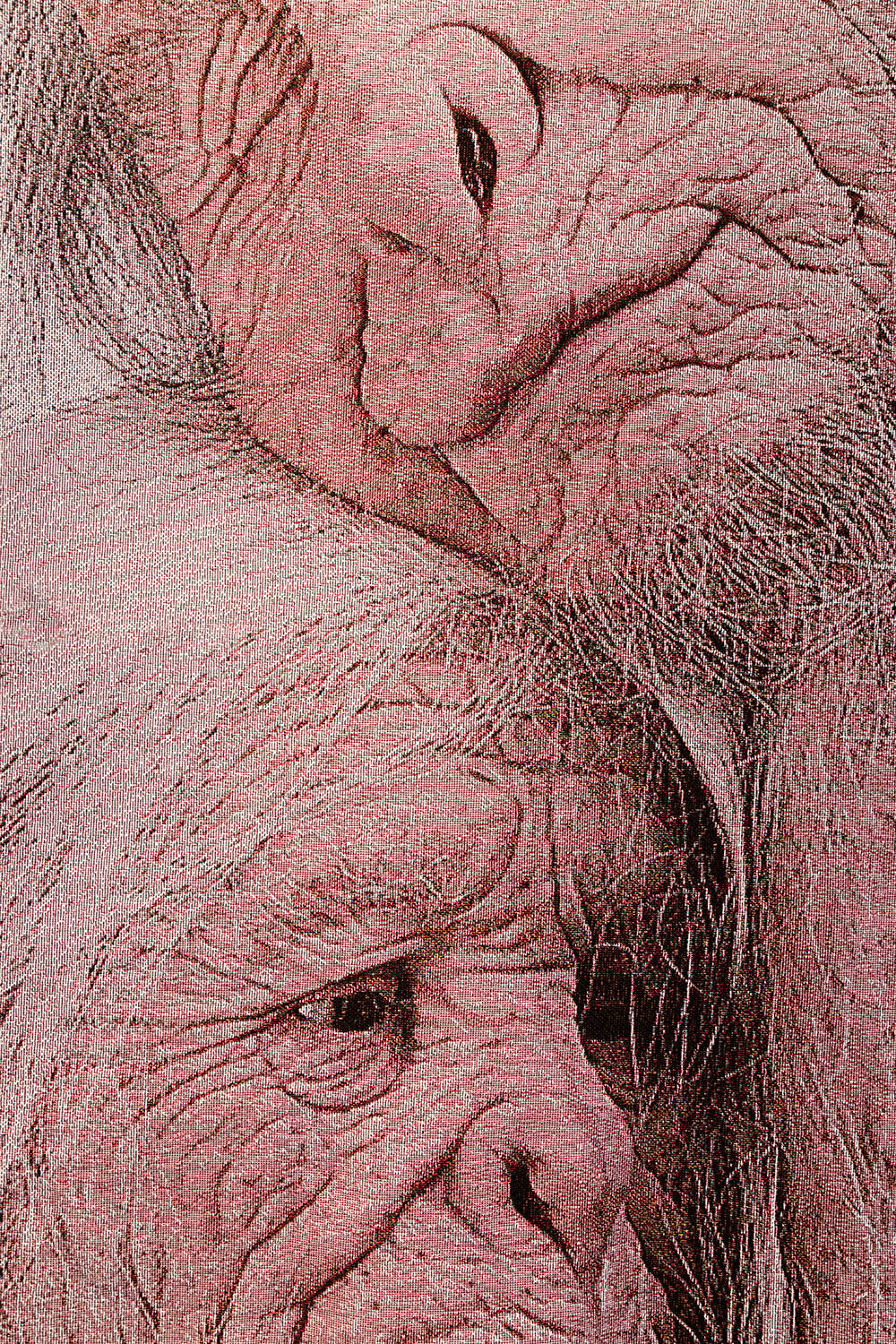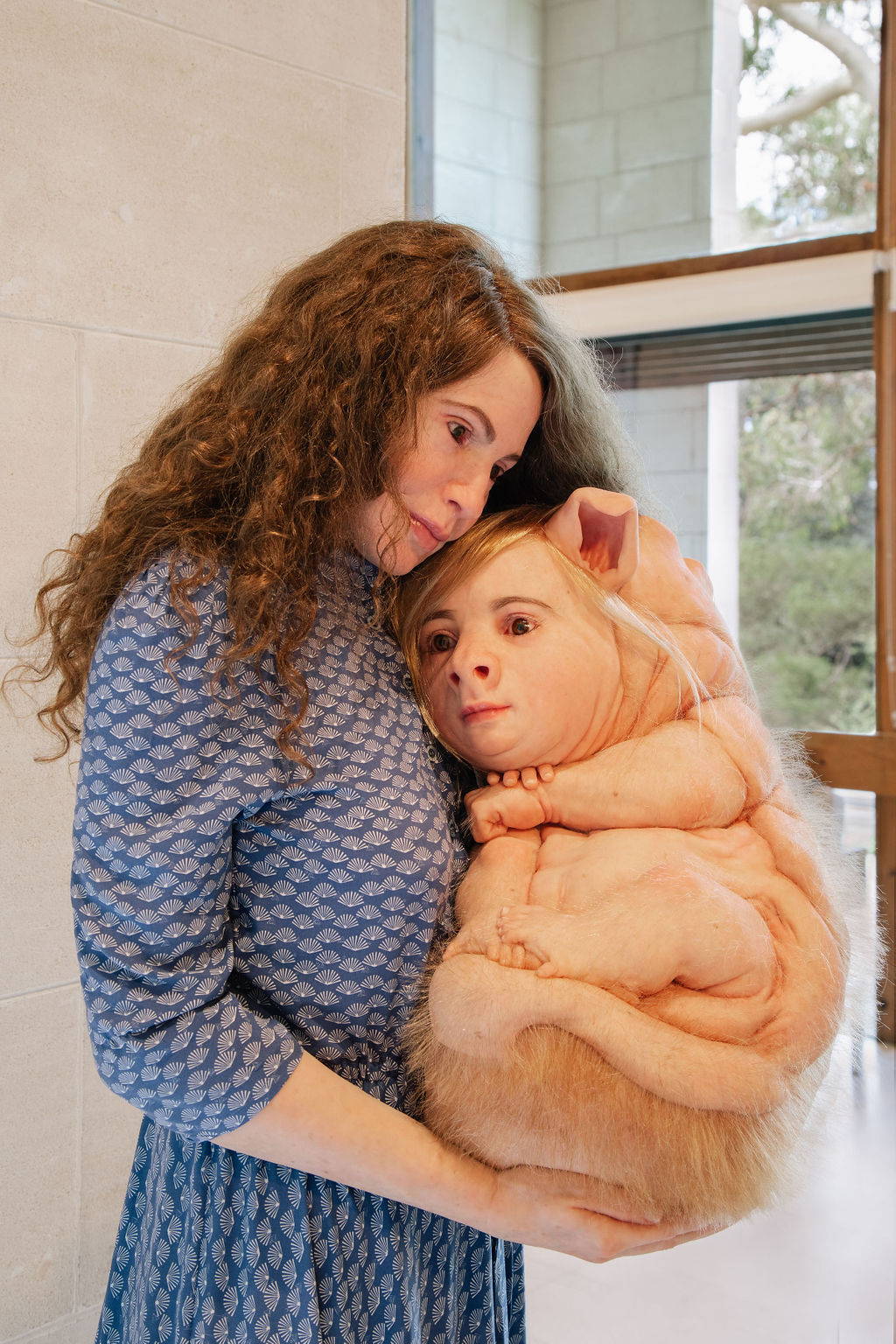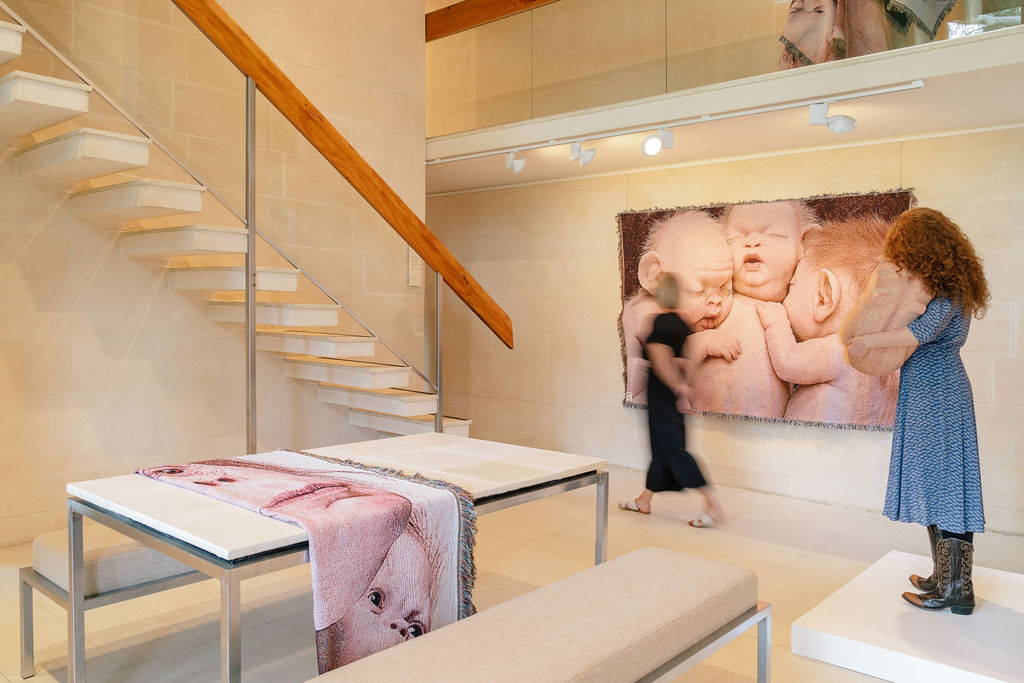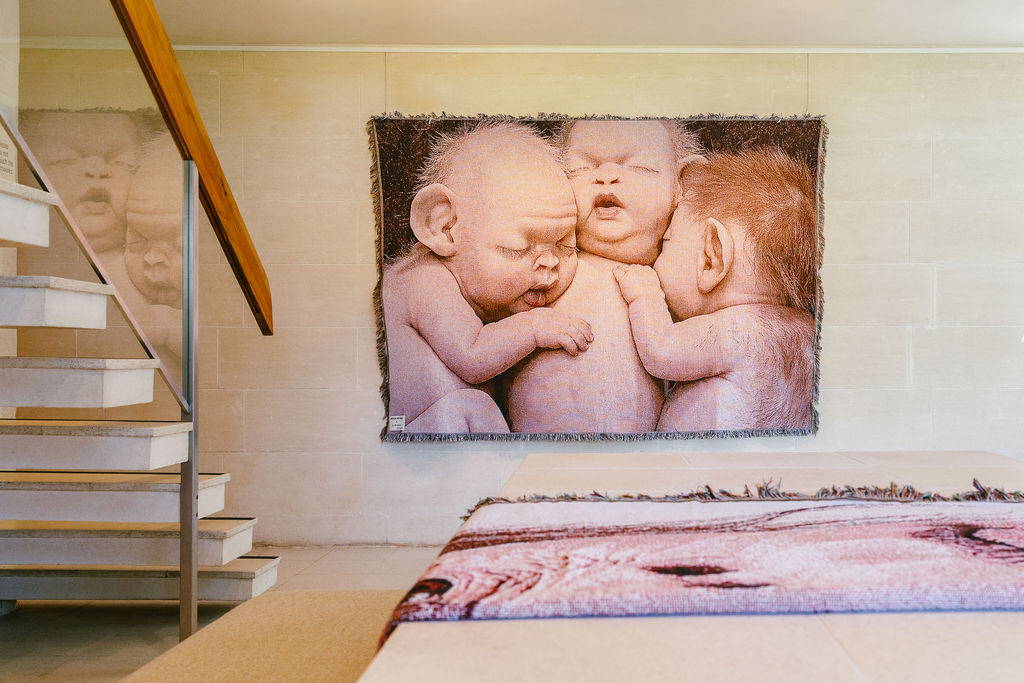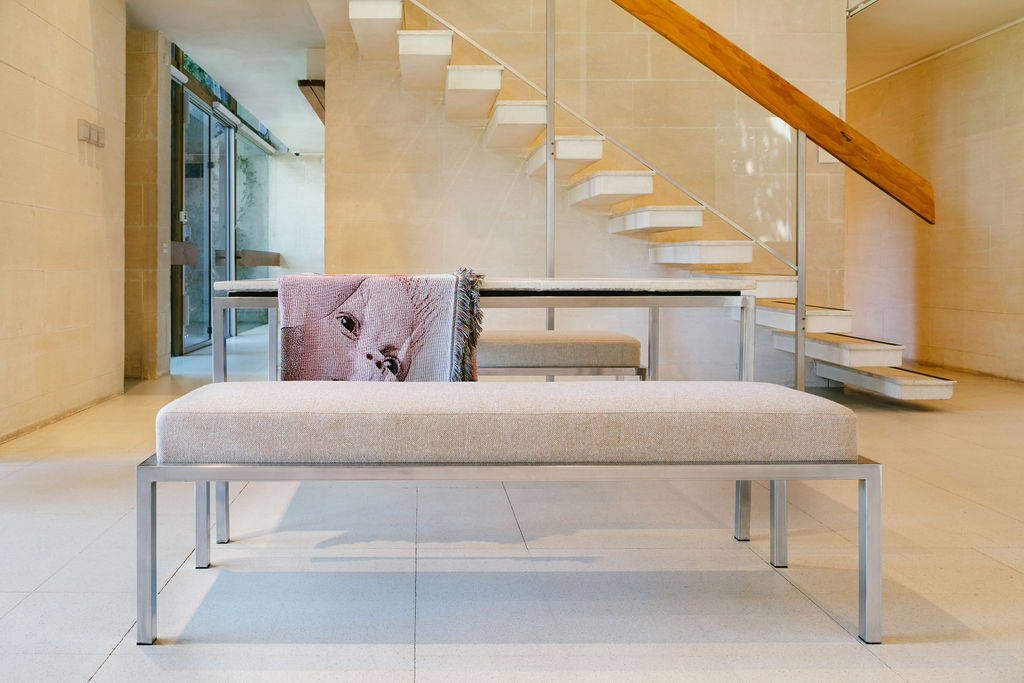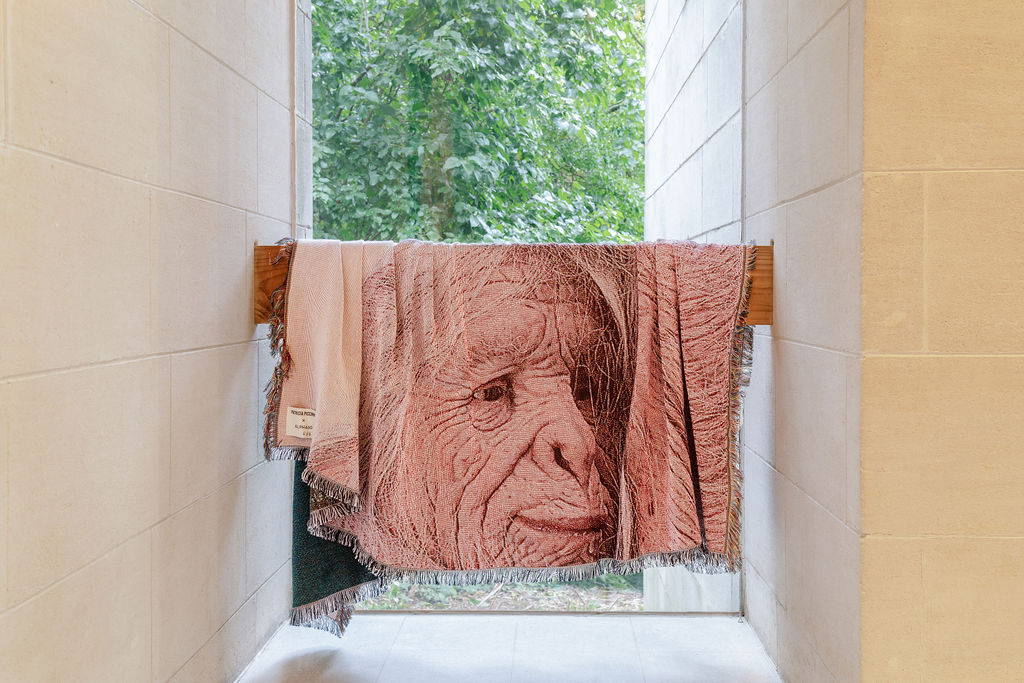 Images by Clytie Meredith
---
Experience the exhibition and Heide Modern space for yourself with our interactive virtual tour.
---
When Heide Museum of Modern Art approached Alex and Georgie of ALPHA60 back in the beginning of 2019, to work on a project together—they knew exactly which artist they wanted to work with.

Meeting between their homes in Clifton Hill and studios in Collingwood—the trio shared thoughts and ideas whilst bonding over Guinea Pigs and spinach from Patricia's garden. The overarching themes for this project of nature and nurture aligned with both parties —which is how Hugs became.

The blankets are a Jacquard fabric—which is a weaving technique which allows for more complex patterns and images to be created. This technique complements the images Patricia's works and provides the desired depth required.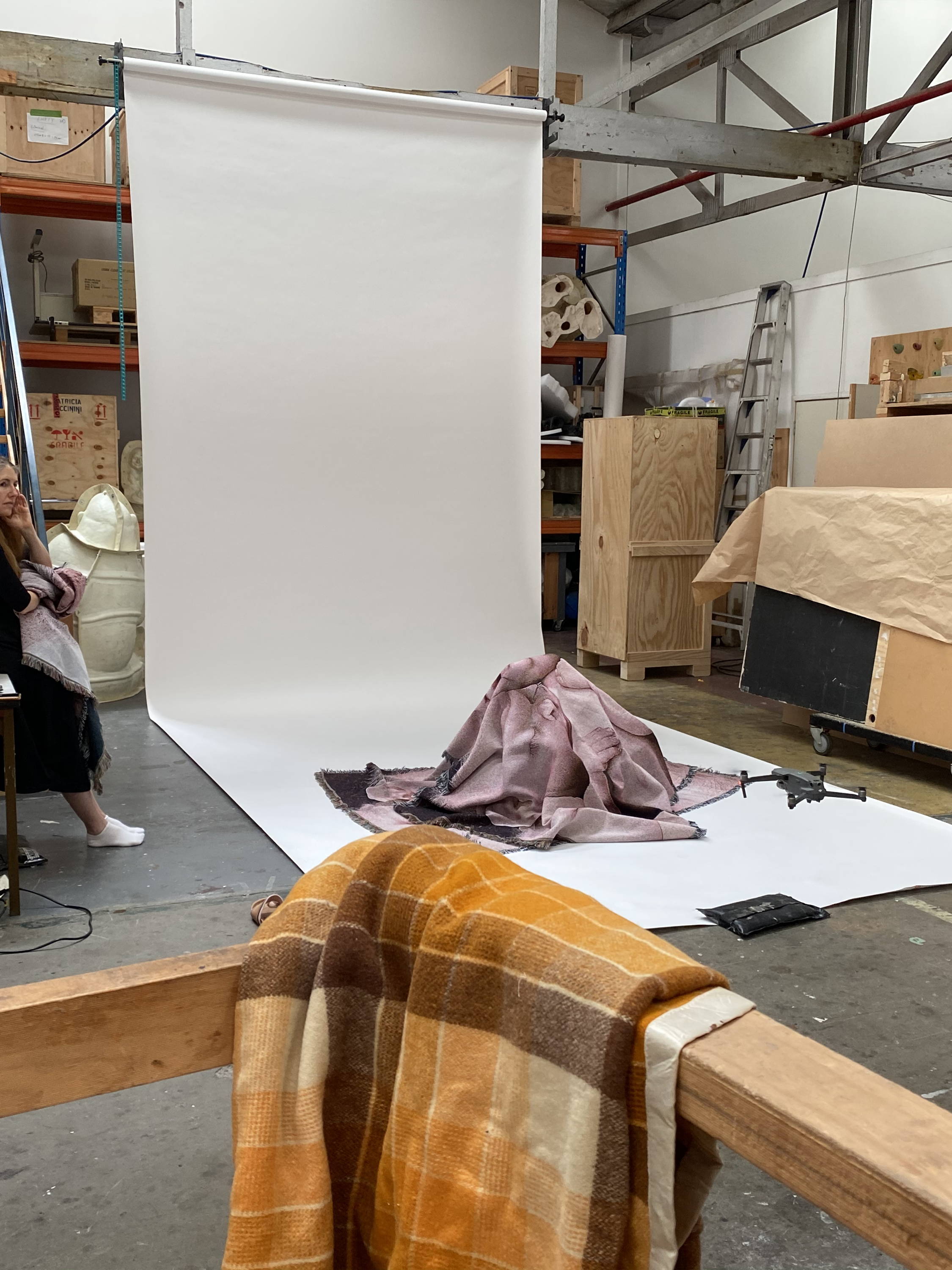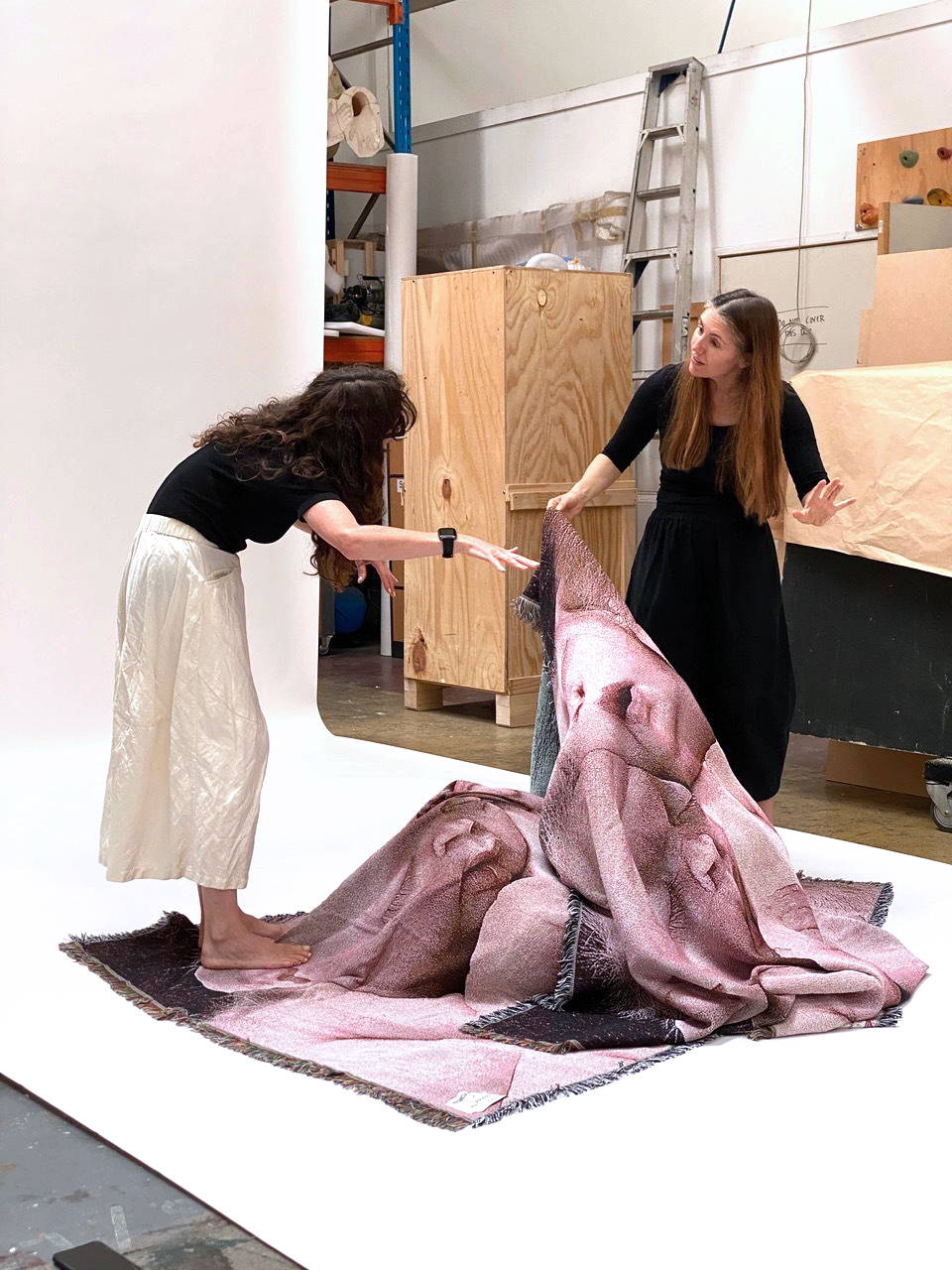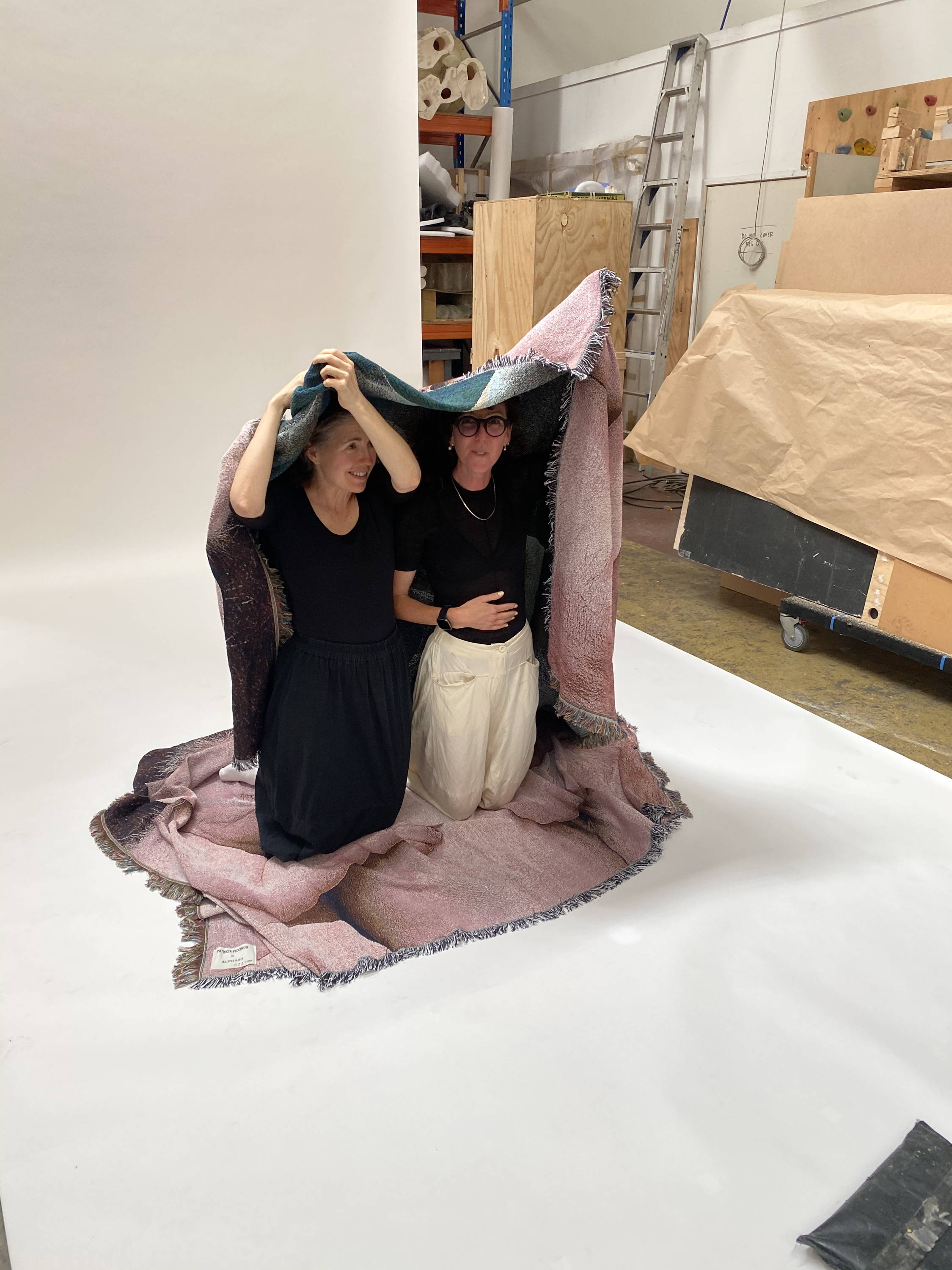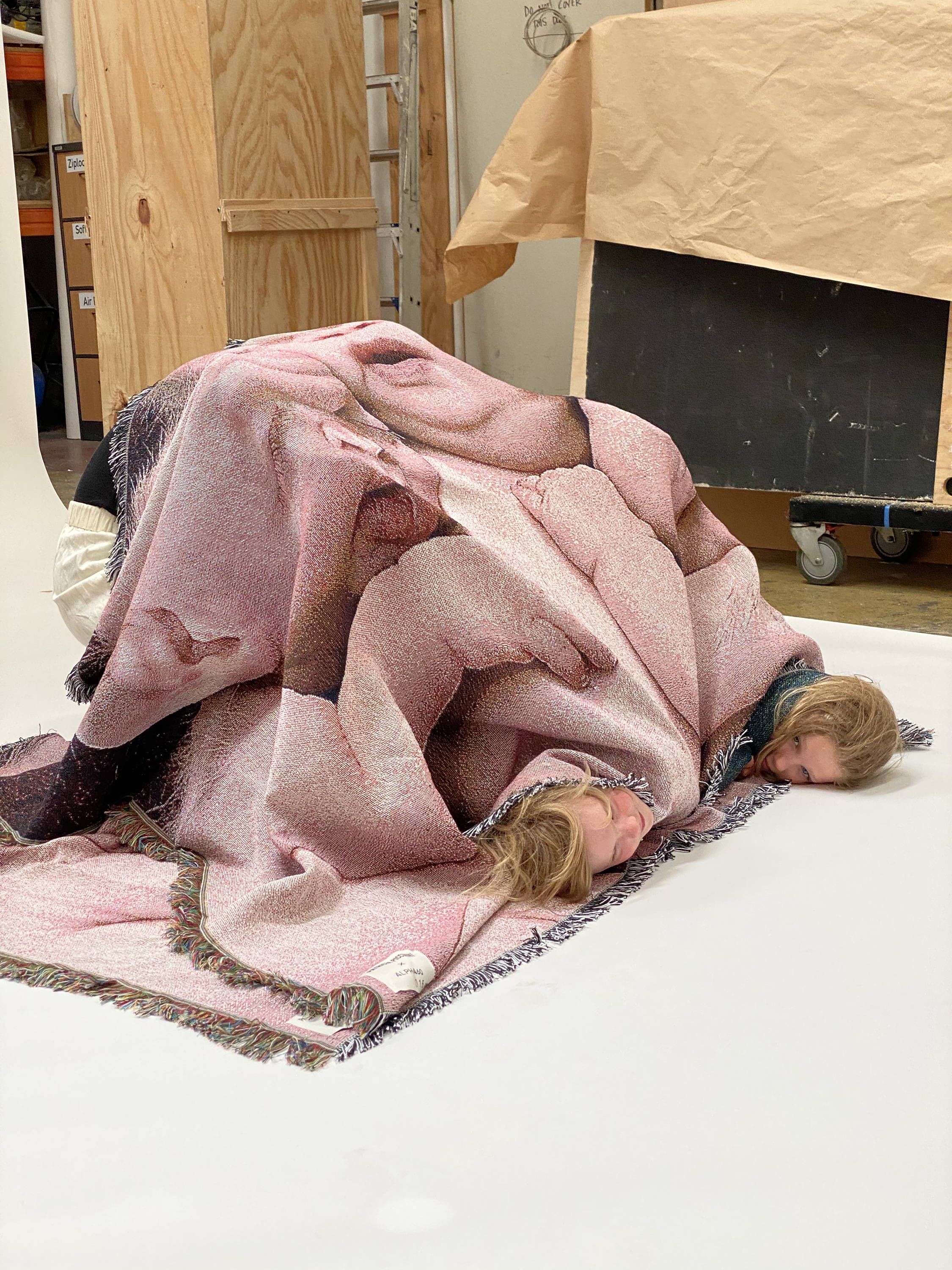 ---
Watch the final video below:
---